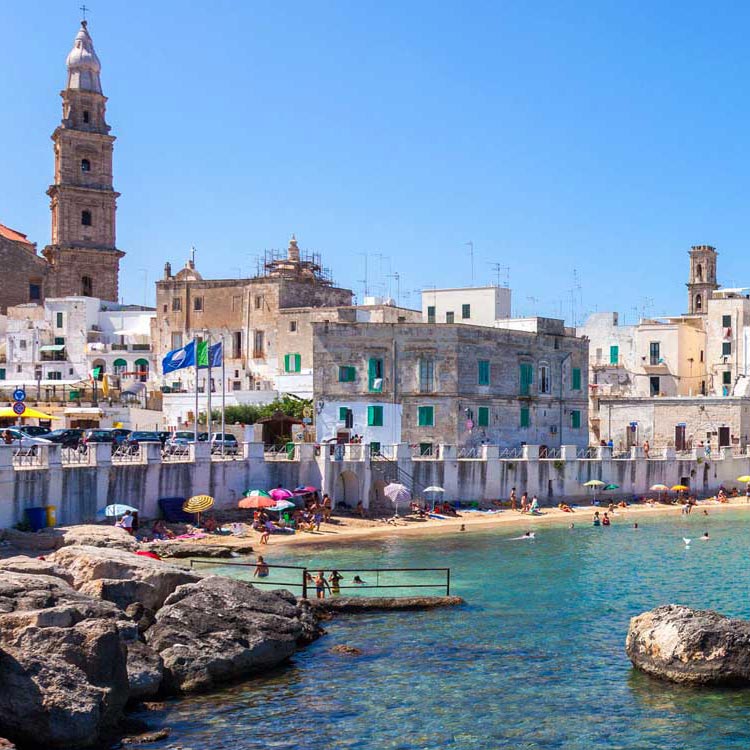 Bari
Important commercial city of south Italy, oriental warm and cheerful, Bari is also a city full of history and rich in monuments and churches. The winding narrow streets of the historic centre, also known as Barivecchia, with its dialect, the habits, the festivity, its vestigia and scars from the various dominations such as Byzantine, Norman, Swabian, Angevin and Aragonese will make you discover a city rich in traditions. In the Barivecchia, women carry on at their front door the culinary tradition of making the legendary orecchiette, a special pasta shape typical of Bari.
Around Bari
Trani, an esteemed seaside resort, hides behind its modern buildings a city centre and monuments that remind of a particularly rich middle age. The roadstead of the tiny harbour and the white and ochre facades make up a truly pitoresque lansdcape. In the old city centre, you'll find several narrow roads and lively piazzas. The beautiful cathedral stands up alone at the edge of the harbour, almost skimming the water.
Not to miss:
Polignano a mare, perched on a cliff falling sheer to the sea, is one of the typical villages of the coast of Bari. Gravina in Puglia, Minervo Murge, Altamura well known for its traditional bread, the castle of Casteldelmonte, the Duomo of Molfetta, the cathedrals of Bisceglie and Bitonto, Castellana caves, Fasano and its "Selva", the Murgia withs its landscapes drawing cliffs, gorges and caves, the city of Monopoli, last fishing port along the coast before Brindisi, still keeping its old style thanks to the medieval roads of the historic centre protected by the castle strategically placed on the sea front.