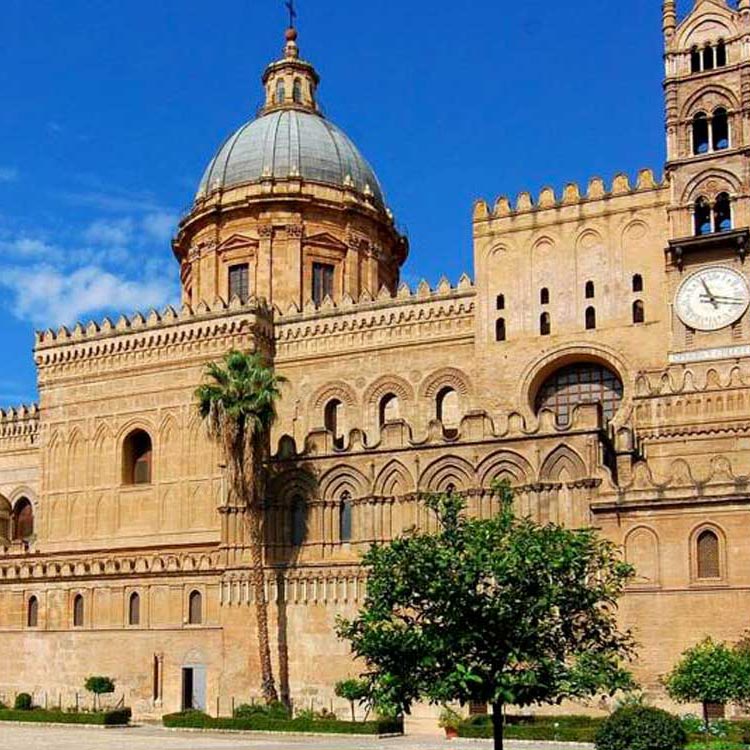 Palermo
Red Palermo, Palermo the child ... Red, such is Palermo as we imagine it, like Tyre, Sidon,or Carthage, as the purple of the Phoenicians, red and plump, his land is watered by the sources on which stands, high and thin, the palm tree bends under the caress of the winds, cool shadows, echoes and nostalgia of the oasis, green mosque, carpet of rest and prayer, the image of the eternal garden of the Koran. Child, this is Palermo asleep , motionless and happy with her beauty, has always been dominated by foreigners, but also by his mother, a devouring Mediterranean mother keeping her children in an eternal adolescence. She surrenders, lush and soft, on a happy shell... Excerpt from "La Sicilia passeggiata", Vincenzo Consolo
Around Palermo
Enjoy a getaway outside the city to discover Mondello, holiday resort of the wealthy Palermo, characterized by beautiful "liberty" villas. Cefalù, fishermen village nestled between the sea and a limestone promontory, has preserved its medieval-style around the Norman cathedral built in the XIIth century. With its Norman-Arab cathedral and cloister dating from the XII century, Monreale represents a must see.
Madonie and Nebrodi regional parks
Natural parks of Madonie and and Nebrodi offer spectacular scenery of gentle slopes becoming steeper where limestone dominates. Charming medieval villages are perched at 1000m altitude in scenic spots above the valleys. The wildlife is varied and preserved. Take the scenic drives offering a range of different views.
Must-see:
Petralia Soprana, Petralia Sottana, Polizzi Generosa, Sperlinga and its castle fortress, Gangi and Pollina.